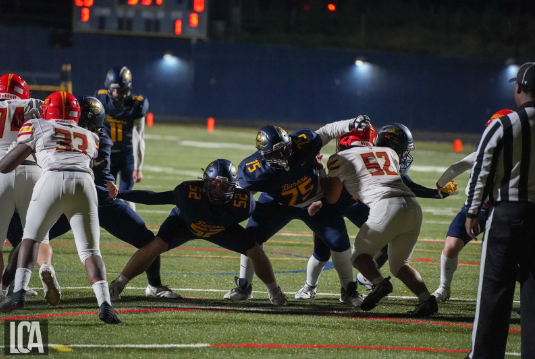 The Barons destroyed Wheaton High School last Friday, Nov. 3, 45-0, for B-CC's first football home playoff win in 30 years.
The Barons entered their first-round matchup with an expectation of domination, and they fully delivered on those expectations.  To open the game, the Barons stopped Wheaton's offense during their first drive, forcing a punt and handing the ball to Junior Lucas Scribner for a 10-yard rushing touchdown. Scribner then took a Wheaton punt to the house on a 39-yard return touchdown. Touchdowns by Junior Chris Jones and Senior Khari Rodgers gave B-CC a 28-0 lead entering the second quarter. Scribner scored his third touchdown of the night, followed by Jones punching in his second rushing touchdown of the evening to raise the score to 42-0 entering the half. B-CC pumped the brakes in the second half, electing to take out many of their starters. Junior Grady Kugel added a 34-yard field goal to the score.
Although the Barons were expected to win this game, they have a much taller task ahead as they travel to Paint Branch looking to avenge their regular season loss to the Panthers tonight. Senior Pierce Tewksbury said, "We are really happy with the way the game played out Friday, and we are excited to try and get back at Paint Branch after our in-season loss of six points." The winner will move on to the state 4A quarterfinals, and the loser will see their season close.  Show up and show out for the Barons.
Story continues below advertisement