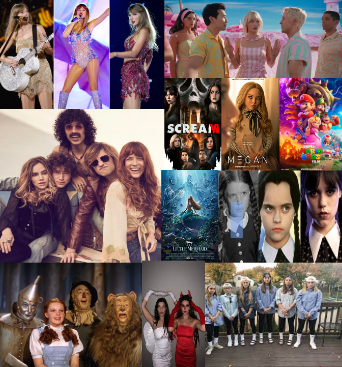 The ranking you have all been waiting for: The Tattler's TOP 8 Halloween Costume Predictions 2023:
Barbie 
Barbie dazzled the world when it was released in July, crushing records at the box office and influencing the crazed purchase of pink products. Junior Hannah Rosser shared, "I am hoping and thinking there will be a lot of Barbie costumes." Luckily for her, it's quite likely that there will be a variety of Barbie-themed outfits this year, from vibrant pink cowgirl jumpsuits to "I am Kenough" sweatshirts. 
Taylor Swift + The Eras Tour
Story continues below advertisement
The global phenomenon, Taylor Swift, completed her first leg of The Eras Tour in August which spans 10 albums and includes a plethora of outfits. From whimsical winter dresses to shimmering, beautiful bodysuits, the options for matching with Swift are endless. 
Super Mario Bros 
In April, the beloved video game series, Super Mario Bros, came out with a star-studded movie, Super Mario Bros, featuring actors including Anya Taylor-Joy, Chris Pratt, and Jack Black. Perfect for a multi-person costume, this cast has options for couples (Princess Peach and Mario), duos (Mario and Luigi), and other variations that can go up to eight recognizable characters.
Wednesday Addams
In the past year, Wednesday, from the classic Halloween film franchise The Addams Family, got her own show on Netflix. Her classically dark and cynical character transfers perfectly into her wardrobe of dark pristine clothes, perfect for a simple yet iconic costume. Sophomore Dulmini Tennakone said, "I hope to see Wednesday and The Scream," which is more commonly referred to as Ghost Face. 
Ghostface
Now a fundamental Halloween mask, Ghostface debuted in 1996 as the face of the film Scream. This year, the reliable presence of Ghostface will continue on with the sixth installment of the franchise, Scream VI. 
Daisy Jones & The Six
Based on a book, this show about a fictional 70's rock band features original songs, an intriguing plot line, and an assortment of groovy clothes. Fans of rock music, vintage shopping, and subtle yet perfectly accurate group costumes may want to consider donning the personas of Daisy Jones & The Six this year. 
The Little Mermaid
Perfect for Disney fans and friends willing to dress up as various ocean creatures, The Little Mermaid, a reimagining of the classic film, dazzled theaters in May, and brought people back to their childhoods. Along with Super Mario Bros, The Little Mermaid has a large sampling of characters who can be mismatched together to make a whole SEA of fun!
M3GAN 
Interested in being a little bit more solitary? Robotic even? M3GAN, the horror film, features a robot dressed in a simple dress, leggings, and a bow, and it relies heavily upon the machine-like movements of the main character. If someone is running low on time and can construct a basic schoolgirl outfit, the essential part of this costume is showing up and showing out.