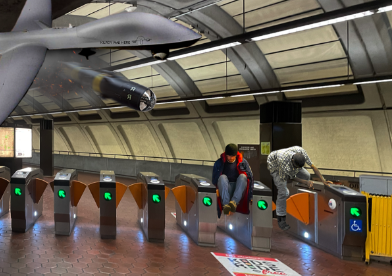 In an effort to curb turnstile jumping, the D.C. Metro has collaborated with the Pentagon (DOD) to offer Pentagon Care Packages™ to unsuspecting ingrates who skip the toll. These solutions come in the form of MQ-1C Gray Eagle drones lurking on the roof of the station, which fire AGM-114 Hellfire missiles from above as an efficient way to reduce turnstile jumping. All of this for free! So thoughtful! 
Although some have been taken aback by the sudden change in policy, both parties have taken lengthy measures to not disrupt the tranquil ambiance of the beloved Metro. The last thing this program aims to do is disturb the peace of our stations. As such, the project will include further engineered versions of the fire escape door, often used to let in fare avoiders. If the door is opened when a fire has not been detected, nano-thermite explosives will be deployed into the bloodstream via a retractable needle within the push bar. But, so as not to disrupt the Metro atmosphere, such nanobots will release a patented Dior brand pheromone, aptly named Le Metro Musk, reeking of puke, rat piss, and weed. Jumpers will be reminded of that homely Metro rankness one last time as soon as the explosives go off. So welcoming!
The Department of Defense investigated its own 2 billion dollar project and discovered a 100% satisfaction rate and a 0% failure rate. The survivability rate was deemed irrelevant in the investigation. So safe! Even then, the D.C. Metro knows a few litigious families that might take the bombardment of their relatives to court. This is why the care package includes the Non-Disclosure Friendships (N.D.F.) bundle–again, for free! The N.D.F. bundle includes an N.D.A. forwarded to the families of those affected by the strikes, which includes a 25$ Chipotle gift card as a signing bonus. Failure to sign the form results in an all-expenses paid trip to a Guantanamo Bay black site, extraction team included. Naysayers may argue that making the subway free would be cheaper than investing in multibillion-dollar, cutting-edge drone strikes and nanotechnology. However, problem-solving capabilities at The Pentagon do not exceed blowing stuff up and seeing what happens.
Story continues below advertisement