B-CC Embraces Cultural Diversity at International Night: A Celebration of Identity, Art, and Community
On May 24, the auditorium and atrium will transform into International Night. 
"I'm Ethiopian. For me, I feel like International Night is a way to represent my culture, take pride in it, and show people what our country is," said junior Meron Asfaw when asked why she chose to participate in this year's International Night. Junior Azaria Daniel, who is MCing part of the event, feels excited to "interact with people from different backgrounds here at B-CC." He agreed with Asfaw, saying, "Hosting this event is going to be a memorable part of my high school life, where I can say I learned a lot about my community." 
International Night has been a part of the array of school events since elementary school. This night is an opportunity for people to take pride in their identities, participate in the flag parade, learn how to greet others in a new language, and try special foods. 
According to the U.S. News & World Report, the minority enrollment at B-CC is 44.4%. International Night serves as an opportunity for these groups to express and embrace their cultures. Senior Nuhamin Lemessa commented, "To see this at B-CC, a school that is predominantly White, it makes me happy to see everyone showcase their culture. I feel like it adds flavor and diversity to the school." 
The event embodies the cultures that form B-CC's community, and unlike elementary school, it'll be much more than food and flags. "As a community, we want to make sure that everyone feels equally welcome. This not only highlights spoken word but also goes deeper into traditions such as food, clothing, games, talents, and arts," Daniel explained. 
Asfaw is involved in the planning process and revealed a tiny snippet of what people can look forward to: "There's a lot of different activities. For example, in my culture, there are different dances, like Gonder, Afar, etc. Other people are singing, dancing, rapping, and reading poems." Lemessa is also "so excited to see all the beautiful cultural performances!" 
Asfaw then reflected on the possibility of International Night growing, saying, "If more people want to do it and show off their culture, it will continue. When they see us performing, and see how nice it is to show off one's culture, people are gonna wanna do it more!" 
Be sure to stop by the atrium at 5 p.m. and the auditorium at 7 p.m. on May 24 to see what B-CC has planned! 
Leave a Comment
Your donation will support the student journalists of Bethesda-Chevy Chase High School. Your contribution will allow us to purchase equipment and cover our annual website hosting costs.
About the Contributor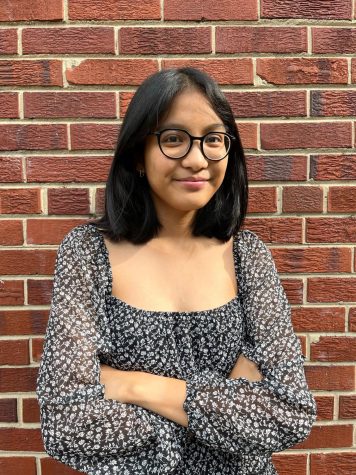 Kristine Roque, Section Director
Kristine Roque, a B-CC junior, serves as a Tattler writer and specializes in Arts & Entertainment. In Kristine's free time, she loves to watch K-Dramas...