The Scrutiny of Hip Hop
While the discussion of self-expression versus gratuitous glorification has its merits, why is this genre the center of the conversation?
Rap has never been a conflict-averse genre. The essence of hip-hop is to go against the grain, to fight against existing social and musical structures. Anti-establishment themes have been one of the few constants in universally-praised discographies of all generations and locales, from singles such as Grandmaster Flash's "The Message" to albums like Outkast's Stankonia and Kendrick Lamar's good kid, m.A.A.d city. So nobody should be surprised when some rap songs make people uncomfortable. In the words of 12-time Grammy nominee Busta Rhymes, "Hip-hop reflects the truth, and the problem is that hip-hop exposes a lot of the negative truth that society tries to conceal."
While there is certainly a place for gritty analysis in music, how do we draw the line between celebrating problematic behavior and simply analyzing it? According to Bou, a prominent artist and activist in the DMV area who graduated from B-CC in 2009, "It's not a crime to express yourself. The only crime is the actual crime…Rappers are really talking about what they've seen and experienced. In their mind, they're not glorifying violence or the streets…We're just speaking about it, and it's something that consciously impacts us."
The importance of artistic expression was also highlighted in a discussion in Mr. Tracy's Hip-Hop and Culture class. When the prosecution of YSL (the Atlanta-based label started by Young Thug) was mentioned, students debated the ethics of using lyrics as evidence in the courtroom. Beilul Tesfai, a student in the class, emphasized that this debate over lyrics is "not a conversation that happens outside of hip-hop…It doesn't happen with other genres of music. You have to think of who's the face of these genres."
This decades-long debate surrounding lyrics has incorporated a wide variety of takes from musicians, activists, politicians, and everyday citizens alike. Reverend Al Sharpton once called for Federal Communications Commission (FCC) censorship of certain "violent" rap songs, yet he recently acknowledged that hip-hop is not a monolithic genre. In his mind, "A thug is a thug whether they're singing jazz, whether they're R&B, whether they're singing gospel. I know some preachers packing."
Representative Jamaal Bowman, a co-sponsor of the RAP Act (which seeks to ban lyrics as primary evidence in federal court), appeared on an October 9 episode of NPR's Weekend Edition podcast to discuss the importance of this proposed legislation. However, he emphasized that "if [federal prosecutors] have hard evidence, forensic evidence, and a case without the lyrics, and you want to use lyrics that reference a particular crime after you have the hard evidence, you know, that is admissible."
We all know that violence and incendiary language are bad. I am not here to argue against this. Nevertheless, these elements are an inevitable part of life, particularly in an increasingly unequal and divided society. Rather than close our ears and admonish artists for cursing in their songs, we should listen and try to comprehend not just the words being spoken but the larger messages behind these lyrics.
While talking with Bou, we bumped into an older friend of his. When this friend learned the purpose of the interview, he enthusiastically responded, "Music is a great form of expression…it transcends race, gender, all of that." Art is the quintessential medium for personal expression and, by default, personal liberty. You are not required to listen to hip-hop or any genre, for that matter. Nor should you be. However, if you can recognize the power of art, it might behoove you to give To Pimp a Butterfly a listen.
Leave a Comment
Your donation will support the student journalists of Bethesda-Chevy Chase High School. Your contribution will allow us to purchase equipment and cover our annual website hosting costs.
About the Contributors
Joshua Garber, Section Director






Joshua Garber, a B-CC senior, serves as a Section Director who specializes in Features. Josh has been described as "sneaky athletic," "schmexy,"...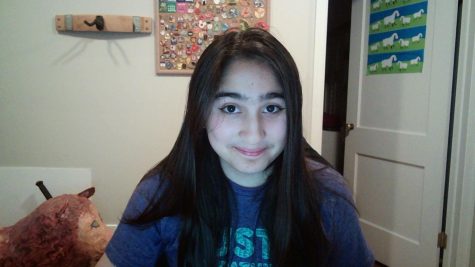 Claire Wang, Art Director
Claire Wang, a B-CC senior, serves as the Co-Director for The Tattler's Art Team and a contributing writer. She also has two dogs and two cats.