A Tightrope Walk: The Fine Balance of School and Work
Some B-CC students struggle to balance the demands of work and school, especially when the additional income helps to support their families.
"I'm working mostly for my family," confessed Jennifer "Jenny" Mendoza, a B-CC Junior. "Not really cause I want to, it's cause it's been like a need."

Despite the demographic of our school skewing toward a higher income, according to data from U.S. News, 15% of students at B-CC are economically disenfranchised.

"

According to data from U.S. News, 15% of students at B-CC are economically disenfranchised."

.

However, this doesn't prevent some from attempting to keep up with the high regard of honors and Advanced Placement classes. 78% of students enrolled in B-CC have taken at least one AP class.

"I'm doing four AP's," Jenny said. She has three jobs, hosting at two restaurants and serving at another. She often resorts to doing homework while on the job or going to bed past midnight to finish schoolwork. 

However, she's an outlier in her ability to balance multiple jobs and rigorous courses. Most students who work full-time have to limit the number of strenuous classes they take. Like Jenny's cousin, Freshman student Glendy, stressed, "There were classes that I wanted to take, like Honors or AP NSL, and I couldn't because of work."

"

There were classes that I wanted to take, like Honors or AP NSL, and I couldn't because of work."

She works as a line cook in one of the restaurants where Jenny hosts. 

  In her first year of high school, she is already juggling a job and schoolwork. Sending back money to her family in Honduras, she says, "I had to learn how to manage my money by myself; there wasn't anyone to help me figure out how much I could spend on myself and how much I would send away."

*Sunay, is in her final year at B-CC, and this was the first time she got the opportunity to select the classes she wants; she is a non-native English speaker and was placed in the EML (Emerging Multi-Lingual) program formally called ESOL, which meant her school schedule was more predetermined, "I did not get the opportunity to take elective classes until this year."

She added that the ease of these classes, however, gave her more time to take care of her brothers, which is still a time-consuming, even if non-traditional, job.

"Ever since I came to this country, I haven't had any free time because I have to take care of my brothers. If I want to do something for fun, it's usually not possible for me," she said, though she's not alone in her shortage of spare time.   

Alan, a B-CC junior, does not have a job during the school year: "I prioritize school over a job because I know my parents can support me."

Almost every high schooler would describe feeling overwhelmed, stressed out, and overworked in terms of schoolwork and class schedule. For most, this can be remedied by scaling back on extracurriculars and dedicating more time to their studies. But we must remind ourselves, this isn't the case for everyone, "I have a lot going on, I know I need to be on top of stuff because no one is going to do it for me." Jenny added, "if I don't stick to my schedule, everything will fall apart." 

*Her interview is translated from Spanish
Leave a Comment
Your donation will support the student journalists of Bethesda-Chevy Chase High School. Your contribution will allow us to purchase equipment and cover our annual website hosting costs.
About the Contributor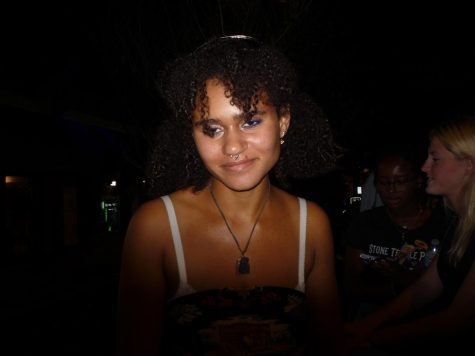 Nabou Thiam, Staff Reporter
Nabou Thiam, a B-CC junior, serves as a Tattler writer and specializes in Features. With her drive and passion for writing, she's taken several summer...