Student Affinity Groups Help to Combat Loneliness
"Someone will say something about an experience they had regarding their Blackness. It suddenly feels like I am not as alone."
"White people would rather talk to other White people," said senior Juliette Leeth, a member of B-CC's Black Student Union, adding, "Being the only Black girl in many of my classes, I feel isolated because it seems like they have preconceived notions of me."
During the 2021-22 school year, 2,289 students attended Bethesda Chevy Chase High School. 1,215 of those students were White, while the remaining 1074 students were a part of minorities, according to the National Center for Education Statistics.
Though their White peers may not be, students of color at B-CC are aware of these numbers. The lack of diversity at B-CC has taken a continuous toll on minority students. "Seeing that only about 7% of the student population at B-CC is Asian, I have felt isolated from my peers since I am unable to really express my culture without feeling imposter syndrome," said senior Ting Ting Li of B-CC's Asian Student Union.
"Whenever race or ethnic-sensitive subjects were discussed, I was usually expected to answer, " recalled Ananya Roy of the Asian Student Union and Desi Student Association, adding, "The teacher would call on me, and students would generally stare or ask questions of me."
Despite this isolation, minority students have been able to connect with each other by forming affinity groups, which serve a safe space where they feel seen and heard. "We offer time to talk in all of our meetings to share the experiences we face and ways to combat them," said junior Shirin Ghorbani of the Iranian Student Union.
"Being a part of EESA has allowed me to participate in cultural activities, learn more about my heritage, and advocate for myself and my community," said junior Arsema Berhe of the Ethiopian Eritrean Student Association. There are few opportunities offered at B-CC for minority students to learn about their backgrounds or feel represented in class at school. "Loads of stories we go over in classes have so much cultural punch, but teachers are often completely blind to it and under analyze the important cultural themes," said sophomore Tasia Mallombasang of the Asian Student Union.
Connecting with students who have had similar experiences is extremely important as it aids in the feelings of loneliness that come with being different. These affinity groups have acted as a smaller version of the larger communities they represent. "Sometimes I will be sitting in BSU, and we are having an open dialogue, someone will say something about an experience they had regarding their Blackness. It suddenly feels like I am not as alone," Leeth recalled.
In these spaces, it is easier for students of color to feel heard and relatable. Becoming a member of these groups can make the experience of being a minority at a predominantly White high school better.
"I think it is so important to surround yourself with your community. Affinity groups can help you connect with your peers in a meaningful and positive way," said Mallombasang.
View Comments (1)
Your donation will support the student journalists of Bethesda-Chevy Chase High School. Your contribution will allow us to purchase equipment and cover our annual website hosting costs.
About the Contributor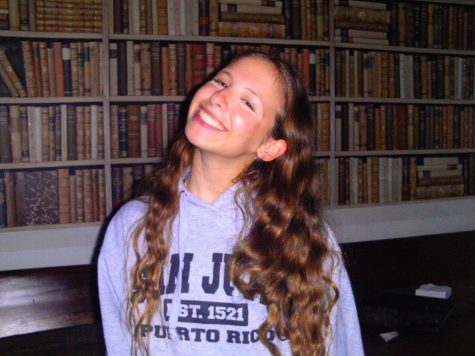 Sara Torres, Barones Bilingües Editor-In-Chief
Sara Torres, a B-CC junior, is the Editor-In-Chief of our Spanish Section, Barones Bilingües. She loves to bake, listen to music, and write. Sara cannot...