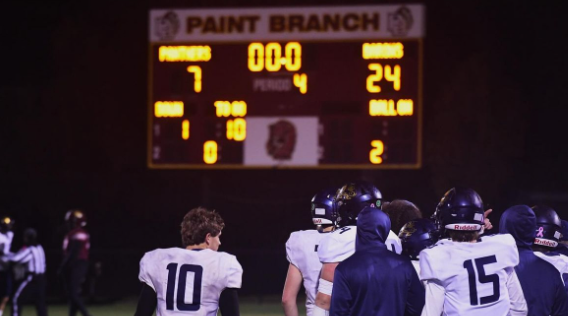 B-CC football knocked out Paint Branch on Friday, Nov. 10, winning a 24-7 dominant victory and sending the Barons to the 4A state quarterfinals.
B-CC was set for a highly anticipated rematch with a strong Paint Branch team, one that had beaten the Barons in the regular season only two weeks before. Although Paint Branch was favored, the Barons came out and dominated.  The game was a close defensive one for seemingly all of the first half as no points were scored until the waning minutes of the second quarter when Senior Carson Griffey tossed a 15-yard touchdown to Junior John Dale.  In the third quarter, the Barons extended their lead off Sophomore Gabe Eisler's 40-yard rushing touchdown making the score 14-0.  Paint Branch then put up a touchdown, but Grady Kugel knocked in a 28-yard field goal a few minutes later to make it a two-score game once again.  From there, all the Panthers of Paint Branch could do was watch as Senior Nelson Smith ran in a touchdown to ice the game in the 4th, and deliver the final score: 24-7.
Defensively, the Barons were ready to go, anchored by Smith and fellow Senior Seth Weaver as middle linebackers; the Barons recorded 53 tackles by 13 different players.  One of those tackles was a sack for Senior Khari Rodgers.
Following the win, Weaver said, "We have talked a lot this year about making a mark on the program and what we want to accomplish, and I think winning a second-round playoff game is a great way to have done that. Looking ahead to Friday, we are playing against another team we have played before. We had a lead against them at halftime, but we let up in the second half and ended up losing. I think our preparation this week is gonna be about minimizing mistakes and playing a full four quarters of football."
Story continues below advertisement
The quest for a state championship will continue next week as the Barons travel to Churchill in a high-stakes rivalry game that will rematch the second week of the regular season, one the Barons dropped 28-7. They are slated to begin State playoffs next week, as one of the eight 4A Maryland teams remaining. The Barons have had a historic season, realizing two playoff wins for the first time in nearly 40 years. Don't miss tonight's historic matchup. Show up, and show out at Churchill tonight, Nov. 17 at 6:30 p.m.