Annual B-CC Electives Fair Commits to Equity
"We wanted to make sure, in terms of equity, that every student was a part of this."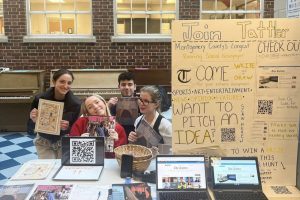 B-CC's annual Electives Fair was held in the art atrium last Thursday. Mrs. Adamson, one of B-CC's assistant principals and a key organizer of the fair, commented, "This is the first time B-CC has done [the Electives Fair] with, what I am going to say, with intent."
Decorated tables lined the atrium floor and showcased a variety of classes for students to explore and enroll in. However, this year's fair marked a departure from previous years. The Electives Fair was previously held in the cafeteria during lunch, but the administrative team decided to hold it in the atrium this year to ensure every student had the opportunity to participate.
Mrs. Adamson explained, "We wanted to make sure, in terms of equity, that every student was a part of this. When we have it at lunch, sometimes students will behave as though it were their lunch, and they might not stay even though it would be in their best interest to be here."
This year, the Electives Fair was held during English classes to ensure students could not skip or ignore the fair. The new format also allowed students to get one-on-one time with teachers and students currently in the classes displayed at the fair. These representatives answered questions and showcased their passions.
"I want students to gain more interest in the class, to let them know what we at B-CC TV do…but also how fun the class is and the community we create," explained B-CC junior Noah Light. Another junior, Reid Van der Werf, represented the Chips literary magazine. He added, "I hope we can foster new creative talents, whether it be writing, photography, or art."
Students were given half sheets to describe their interests and hobbies before entering the fair. Roaming counselors were also on hand to provide insight into potential course options and to guide students who were not engaging with the fair toward classes that would be a good fit for them.
"You know again, it's really about equity," stated Ms. Adamson, referring to "some of our most disenfranchised students, especially some of our EML students who don't even know how the system works." She also added, "If students aren't legacy students, if they are just here for the first time, then it's kinda important for them to have that experience where they get to go around and look at the various classes we have."
The ultimate goal of the Electives Fair was to give students the ability to build schedules that will set them up for success. There is hope to continue this commitment to equity through future fairs.