B-CC's Once Upon a Prom Featured on Fox
"Prom is a really important event in teenagers' lives, so our goal is for everyone to be able to enjoy their Prom regardless of their financial situation."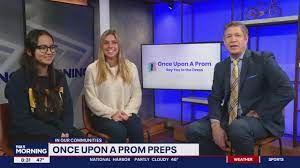 B-CC's "Once Upon a Prom" club was featured on Fox 5 Friday, the 20th, to announce this year's prom attire giveaway.
"Prom is a really important event in teenagers' lives, so our goal is for everyone to be able to enjoy their Prom regardless of their financial situation," said Co-President Brooke Silver, addressing the club's goal of providing free prom outfits to those in economic or personal need.
Silver shared her experience on air: "It was really fun. I hope we are able to expand our audience."
With that in mind, this year's giveaway will take place March 3, 2023 from 12:00 pm to 6:00 pm in the B-CC gym. Anyone who is looking for any sort of prom attire can stop by the gym and look through their collection of over 3,000 dresses, tuxedos, shoes, and jewelry.
In addition to this, they are always looking for donations. If you have any long or short prom/bridesmaid dresses, jewelry, shoes, or handbags you no longer want or wear, OUAP volunteers will happily collect these items from your home, or you can drop the items off in the collection box outside the front office at B-CC during school day hours.